Sonics (fast food) finally arrived in San Diego county. I can't express the joy I felt when I found out that San Diego was FINALLY getting a Sonics. I was excited to finally experience 1 of their many colorful drink combinations, tator tots, and maybe an ice cream sundae. I had always seen their TV advertisements, and was definitely looking forward to my first Sonics experience.
Where was it?
10515 Mission Gorge Rd.
Santee
,
CA
92071
What I ate/shared:
Cherry Limeade - It was okay... tasted like a Shirley Temple drink. There was even a maraschino cherry beneath a lot of crushed ice.

Chicken finger sandwich - Pretty good for a $1 sandwich. Would have tasted better with some BBQ sauce though.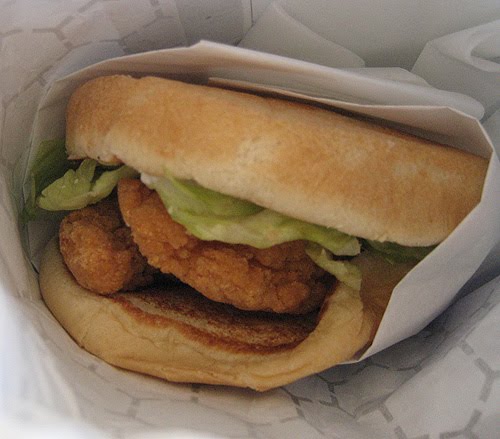 Chili cheese tator tots - These were okay. It would have been nicer if the tots and chili were hotter.

Some thoughts:
Felt a little stupid, because I didn't know how to order. It's the big, RED button on the bottom right hand side.
It was a very ODD experience to see families pull up in their flatbed trucks and eat hamburgers out of the bed's of their trucks. I always thought of Santee as being "suburbia." Instead, I got this "country vibe."
You get a mint served with your drink. It wasn't necessary, but a nice touch.
Would like to try more drinks. It's a little far drive from where I live, so I don't know when my next opportunity to do so will be.
Extra Pictures: